Undergraduate Social Work Degrees: One of Several Undergraduate Paths to Graduate School in MFT
Social work is a versatile undergraduate major. It prepares you for a career in areas like community organizing, case management, or other human services; a graduate degree is not necessary for these types of positions.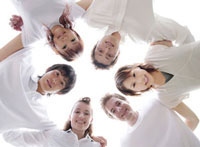 The social work bachelor's is also often looked at very positively by graduate admission committees — and not just in the social work discipline. If you do opt for social work at the graduate school level, you may shave some time off your degree. However, if you prefer to seek licensure in another branch of mental health like marriage and family therapy, your social degree will still be an asset.
<!- mfunc feat_school ->
<!- /mfunc feat_school -> <!- mfunc search_btn -> <!- /mfunc search_btn ->
There are some similarities between social work and marriage and family therapy — beyond just that they are both offer preparation for a career in the helping professions. Both employ a systems perspective; both place human behavior in a larger context.
Program Considerations: Social Work Undergraduate Accreditation
If you opt for social work at the undergraduate level, consider both institutional and programmatic accreditation. Regional accreditation at the institutional level can be important for those with graduate school aspirations.
The Council on Social Work Education (CSWE), meanwhile, sets the standards for the social work discipline at both the bachelor's and master's levels.
The CSWE accreditation is not as vital if your post-degree aspirations lie outside the social work discipline. Your social work degree won't give you advanced placement in an MFT program. However, depending on your geography, you may have the option of pursuing a course of study that will give you dual licensure. In this case, the BSW will be a time saver.
Regional accreditation at the institutional level can be important for those with graduate school aspirations.
How important is the BSW for your short-term work goals? Again, this is partly a matter of geography and career goals. Some states license baccalaureate level social workers who have degrees in related fields. Some don't license social workers at all until the master's level.
Social Work Curriculum
Expect approximately 50 – 55 of the 120 units required for graduation to be in the social work discipline; you may take one to three introductory classes as a first or second year student, but most will be taken during your junior and senior years.
You may have a few social science requirements to complete before formal admission. Master's level mental health programs typically require prerequisites in the social sciences so these courses may serve a double purpose.
A social work program will introduce you to social welfare programs and to human behavior in its social context. You will learn social work practice methods with individuals, families, and communities. Other typical courses include professional ethics, research, and practice evaluation.
Because the social work program must meet the professional standards of an established discipline, there won't necessarily be a lot of room within the major to select classes based on personal interests. However, your internship will provide this opportunity. You may have undergraduate research opportunities as well.
Social Work Undergraduate Internships
Accredited social work programs include more than 400 hours of internship. You spend that time out in the field providing services in an agency setting. You typically have a good deal of input in the selection of settings, so you can explore something in your area of interest, for example, agencies that serve families and children.
<!- mfunc search_btn -> <!- /mfunc search_btn ->
If you want to pursue employment for a while before applying to graduate school, you will be in a good position to do so. If you plan on entering graduate school soon after graduation, you may find yourself with very relevant academic and professional resources.
Is it necessary to do an undergraduate degree in social work to find an internship in a human service agency? No — but the structure that's in place, and the high standards, can make it a good choice.