Marriage and Family Therapists vs. Clinical Psychologists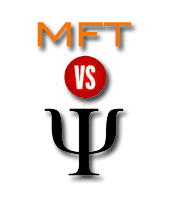 There is some overlap between the roles of clinical psychologists and marriage and family therapists (LMFTs). Both are mental health professionals. Both assess and treat clients with a range of problems, including diagnosable mental illness. Clinical psychologists are more likely to work with individuals who have severe mental illness, but some marriage and family therapists do so as well. When a person has a serious illness, it's often more effective to involve the whole family, and this is an area where LMFTs have specialized training. However, the severity of illness that they treat will depend on their own training as well as the laws of the state where they are licensed.
There are differences in the practice of marriage and family therapists and clinical psychiatrists, and client circumstances may lead them to prefer one over the other. Clients are more likely to see a marriage and family therapist when they need premarital counseling or assistance with other family transitions.
There are also some services they may need a psychologist for. Psychologists have longer educational programs that include more training in psychometric assessment. Their scope of practice typically includes more test administration.
<!- mfunc feat_school ->
<!- /mfunc feat_school ->
Education and Training
Marriage and family therapists must have at least a master's degree. Master's programs have increased in length to 60 semester hours of coursework; they take a minimum of two years to complete. One in five marriage and family therapists has a doctoral degree. This does not confer a higher license, but may be an asset for various positions, including those in research or higher education.
<!- mfunc search_btn -> <!- /mfunc search_btn ->
BLS has predicted 22% growth in the psychology field and 41% for the MFT field.
The majority of coursework in a marriage and family therapy program will be in family studies, human development, and MFT clinical practice. Students typically take at least one research course — most states require three semester hours. LMFTs usually get some training in assessment; this is often included in the state's clinical coursework requirement. There is generally a full year of part-time practicum or internship; students can expect to spend about 15 hours a week fulfilling this requirement.
Clinical psychologists need doctoral degrees. They have two options: the PsyD and the PhD. A clinical psychologist generally spends at least four years earning the degree. The PhD is the more traditional degree; it places more emphasis on research and takes a little longer to complete. The PsyD degree is practice-oriented, but includes far more training in assessments than an LMFT program.
There may be an option to specialize in a broad field like child psychology. Electives allow for further specialization. A future psychologist should expect to do a full-time, year-long internship. There is a matching process that usually involves moving to a new city; for this reason alone, psychology programs represent greater commitment.
Making the Cut
Both MFT and clinical psychology programs are competitive. However, psychology is typically more so; programs may admit a small fraction of applicants. Academic requirements are generally higher. Graduate admission exams are typically required; masters-level MFT programs may or may not require them.
Postgraduate Practice
Post-graduate supervised practice requirements are set by individual states. Psychologists typically practice under supervision for one year, marriage and family therapists for two. Some states set a one year requirement for marriage and family therapists who have doctoral degrees.
Salary and Career Outlook
The extra years that a psychologist trains do translate into significantly higher salaries. The Bureau of Labor Statistics reports that clinical, counseling, and school psychologists enjoyed a mean annual salary of $72,220 in 2012. The average salary for marriage and family therapists was $49,270 during that time period.
<!- mfunc search_btn -> <!- /mfunc search_btn ->
The BLS has predicted 22% growth in the psychology field in the 2010 to 2020 decade. The marriage and family therapy field, meanwhile, has been projected to see 41% growth.