MFT Liability Insurance: Why you need it and where to find it.
As a marriage and family therapist, you won't have a scalpel in hand, but you will still face situations where a wrong decision can carry consequences. You will have the authority to make diagnoses based on the Diagnostic and Statistical Manual of Mental Disorders. Your client population will likely include families with children who are going through divorce. Individuals will have conflicting needs and viewpoints and strong emotions. Some individuals may lie.
<!- mfunc feat_school ->
<!- /mfunc feat_school ->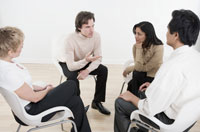 You will have the support of other professionals, especially when you are starting out; at this stage, a professional will oversee your cases and review any diagnoses you make. Later, you can turn to organizations like the American Association for Marriage and Family Therapy (AAMFT) when you need ethical or legal consultation. However, this is a society where litigation is common, and no one has perfect judgment. That is one of the reasons marriage and family therapists carry liability insurance.
<!- mfunc search_btn -> <!- /mfunc search_btn ->
Another reason to carry liability or malpractice insurance: Other professionals expect it. There will be times when you are required to carry insurance. Your university will probably mandate that you purchase a policy when you get ready to start your practicum or supervision. Your employer may provide or require it.
Don't forget liability insurance when you strike out on your own. You may have glowing recommendations from your supervisor and sincere gratitude from your clients, but your good record doesn't make you immune. Professional organizations view insurance as an important precaution.
This is a society where litigation is common, and no one has perfect judgment.
In fact, the Alaska Division of the AAMFT is pushing for a law that would require the state's licensees to carry liability insurance that included a proviso for investigation fees. The Alaska Board was faced with a $250,000 bill from investigating just one licensee and had to use license fees pay it off. That translated into a steep jump in fees — one that would last fifteen years. AKAMFT states that most professionals carry liability insurance, but that licensing fees for all can fluctuate — and take jumps — due to even one "bad apple" not taking out an insurance policy.
Obtaining MFT Liability Insurance
It is not difficult to obtain student liability insurance. Sometimes it is as simple as paying the required fee; your program may have a contract with an insurance company. If not, your school may distribute paperwork or point you in the direction of an insurer. Student insurance is typically cheaper than professional insurance because you have a highly qualified professional meeting with you frequently and overseeing your work.
It is not difficult to obtain student liability insurance.
Some schools state that you must be a student member of a professional organization like the AAMFT. Student membership in the AAMFT includes insurance, provided through a contract with CPH and Associates (http://www.cphins.com). National fees (as of August 2013) consist of a $58 annual dues and a one-time $25 processing fee. If your state chapter also charges a fee, you will be required to pay that as well. You will find a chart in your application materials; most states charge dues of less than $12.
In order to avoid a break in coverage, you can transfer your membership to associate as your practicum nears its end. Annual dues at this level increases to $146. Insurance is no longer provided as part of your professional association membership package, but you will receive a discount based on your membership. The California Division of the AAMFT (CAMFT) notes that practitioners who belong to professional organizations are less likely to be disciplined or charged than those who isolate themselves. Overall, they are an insurable group.
<!- mfunc search_btn -> <!- /mfunc search_btn ->
If your workplace does not have its own contracted provider, and a colleague does not suggest one, you may ask for quotes from multiple carriers or call the AAMFT's contracted provider, CPH & Associates, at 1-800-875-1911.
Another good place to look for liability insurance options is through your state's AAMFT chapter. Numerous chapters have information about free liability insurance.