Becoming a Marriage and Family Therapist
All states now license the marriage and family therapy profession, at least at the independent practice level. Some allow you to take an entry-level position under supervision with no license while others require you to apply for an associate license first. Many states regulate the profession in some fashion even if they don't term the process licensure; they may, for example, require you to register as an intern or unlicensed psychotherapist.
<!- mfunc feat_school ->
Sponsored School(s)
Featured Programs:
Grand Canyon University (GCU) offers a variety of Master's programs in Mental Health Counseling including an online M.S. in Clinical Mental Health Counseling: Marriage and Family Therapy and an online Post-M.S. in Counseling: Marriage and Family Therapy Certificate. Each state has specific education requirements as they pertain to MFT licensure. Confirm with your state that this program will meet licensure requirements. Click here to learn more about the GCU programs and course descriptions.
Capella University offers an online MS in Marriage and Family Therapy (MFT) program that is accredited by COAMFTE (Commission on Accreditation for Marriage and Family Therapy Education). The curriculum incorporates current MFT education standards and is designed to help you prepare to pursue state licensure eligibility. Click here to contact Capella University and request information about their program.

Pepperdine University

offers an online Master of Arts in Clinical Psychology with an Emphasis in Marriage and Family Therapy (MFT) program designed to prepare students for licensure in their state.

Click here

to learn more.

Southern New Hampshire University (SNHU) offers a CACREP accredited online Master's in Clinical Mental Health Counseling. Click here to learn about the psychology and counseling programs at SNHU.

University of West Alabama

offers a Master's of Science in Family Counseling as well as several additional Master's programs and a Bachelor's in Psychology undergraduate option. Graduates are prepared to pursue positions in counseling, research, education and other industries.

Click here

to learn about the University of West Alabama and their programs.
<!- /mfunc feat_school ->
Completion of a graduate program that meets that state's requirements, pass a licensing exam, and working under supervision are standard requirements in each state.
There are several components to professional level licensure. You need to complete a graduate program that meets that state's requirements, pass a licensing exam, and work under supervision for a couple years.
Click Here to find your state's MFT licensure requirements.
LMFT Education and Examination
Depending on the state, you may initiate the licensing process while you're still in school — or not until a couple years down the line. States that require you to be licensed before beginning work sometimes allow you to take the licensing exam as early as your final semester of school.
The national board exam that most states use is given during just four administration windows each year. You will need to submit verification of educational status to your licensing agency before you can be approved to sit for the exam. At some point, you will submit official transcripts.
LMFT Supervised Practice Requirement
Before beginning work, you will need to make sure you are in compliance with supervision requirements set by your state board. Depending on the state of licensure, you may have a significant amount of paperwork to submit while practicing under supervision. Your supervisor may fill out evaluations at regular intervals.
Professional Fitness
Another component of licensure is character and professional fitness. All states ask questions about professional and legal background as part of the application process. Many also ask about medical or mental conditions that could impair practice; sometimes a license will be issued with a restriction of some sort.
Many states now do a fingerprint-based criminal background check — this often delays the process several weeks. States that don't require fingerprints may still run a background check of some sort, using information like social security number. Some states require professional and/or character references.
Additional Requirements
Some states also require a jurisprudence test, or test of laws and rules. This is far less involved than there is with the licensing exam; the jurisprudence exam is often open book and completed online. States that don't require jurisprudence exams may ask you to attest that you have read certain regulations.
Some states require you to have your application package notarized. Others will accept just your signature. You may, however, be asked to submit one or more passport-style photos with your application – these will be used for identification.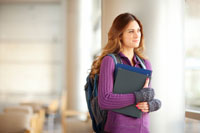 Your application won't be complete until all required documents have arrived from third parties. You may be able to monitor status online.
Often the license is issued electronically. While the LMFT license is considered a 'permanent license', it will need to be renewed periodically.
Licensure by Endorsement
Some states will allow a very limited amount of practice by a licensed therapist who lives in another state (measured in days per month or days per year). You always need a new license when you take a job in a new state. If you hold a current license and apply for one in a new jurisdiction, the process is called endorsement. Some states don't require you to meet all their usual licensing requirements if you have held a license in good standing for five years and practiced actively as an LMFT. Others will hold you to the same standards, though you may not have to submit all the same forms. Your licensing agency may provide adequate detail about supervised practice and examination.
LMFT Professional Organizations
Clinical membership in the American Association for Marriage and Family Therapy is not the same as licensure and does not confer practice privileges, but some states accept it as evidence that you have met education and supervision requirements.
Click on your state or select your state below for MFT license requirements.